In this time of an ongoing pandemic crisis, our team wants to address the possible community outbreak via contact spreading of the virus. If unaware virus carriers can be identified at the right time, we believe we can contain the spread.
What is it?
The FF Protect app is developed to help the community and authorities to detect and track encounters with potential COVID-19 carriers or patients. As we are aware it is becoming very challenging for the authorities and the community as a whole to create a route map and list of interacted people due to the nature of the disease where an infected person may be asymptomatic for up to 14 to 28 days and still could be transmitting the highly contagious disease.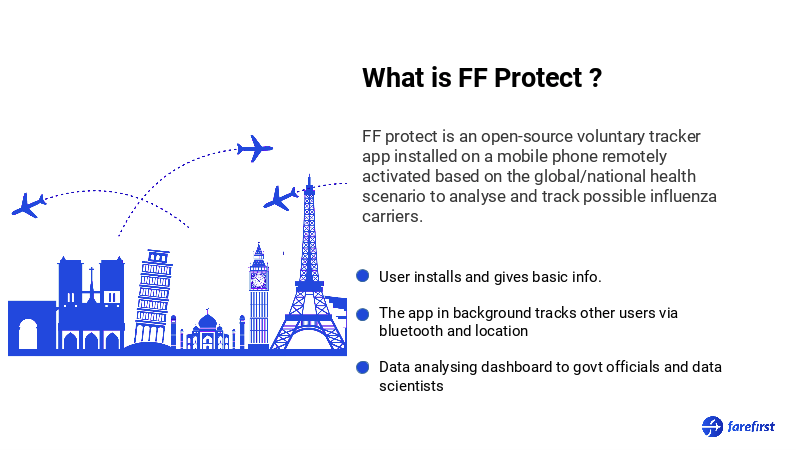 Basically what it means is that you just need to install an app on your phone, and this talks with other nearby Bluetooth devices having this app and creates a map of people you have interacted with along with the duration. If someone gets infected, with this solution we can backtrack the people who they might have spread virus to.


How does it work?
General public will install the FF protect app on the smartphone.
Government affiliated health workers will input confirmed and suspected cases info in our web dashboard.
Our server will process the above data and give basic insight to govt officials on our dashboard.
Data scientists will access the anonymized raw data and extract scenario based insights and trackable information.
Our algorithm will decide and group people into the first level of contact that is direct, second and third level of indirect contacts as well. So that you and the authorities can take the necessary precaution. Please note that this is how various other countries claimed to have contained the spread, using technology to color code individuals and take necessary precautions. Together WE CAN MAKE A DIFFERENCE. These simple solutions will keep us safe in these crisis times and possibly avoid any community outbreak. Our team has made this entire solution open source, and we are ready to collaborate with the officials to deploy at large scale.
Why?
We had started working on this idea around a few weeks back. Initially, we brainstormed to use audio QR code technology which uses ultrasonic sounds to communicate between devices for the tracking, this technique has been used in many payment applications successfully. But we soon realized that the battery drain and the complexities involved with microphones and speakers we decided to look for alternatives. We found that most of the phones these days have Bluetooth Low Energy capabilities. BLE operates at considerably reduced power consumption while maintaining a large communication range. We quickly started building the prototype and found out that each phone can act as a beacon which emits low energy Bluetooth signals and at the same time scan for other Bluetooth signals. With Bluetooth low energy technology we can calculate the distance between users and also the duration of exposure to each other, it is capable of capturing the proximity of users up to a distance of 20 meters. As we launched the internal beta version, we read that Singapore launched a similar tracking system and was released in their country, but the Singapore solution was not made open source then. This gave us a boost and confidence to quickly built the production-ready solution and released it. Our apps background Bluetooth scan happens up every 30 seconds for a duration of 5 seconds. The battery consumption is only 2.5% drain every 12 hours.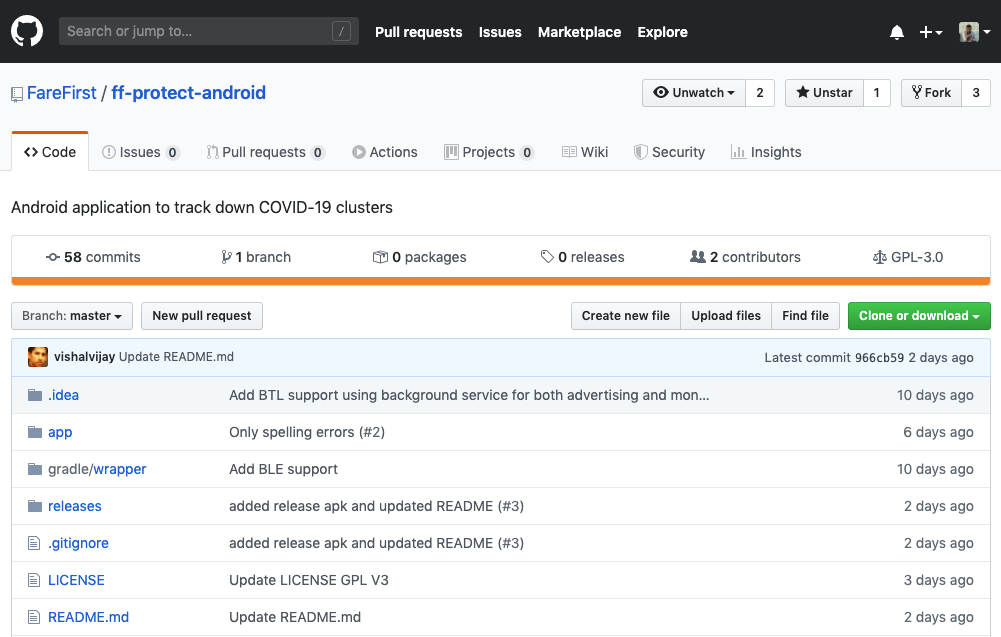 The source code is open and is available on GitHub. github.com/FareFirst?q=ff-protect
Privacy / Security
All user data leaving the user's phone is transferred with a secure connection.
Individual mobile phones receive only anonymized ids from the Bluetooth scans. These ids can be mapped only on the server.
The server storing this data will be secure with all the govt mandated specifications.
All the stored user data is encrypted.
Journey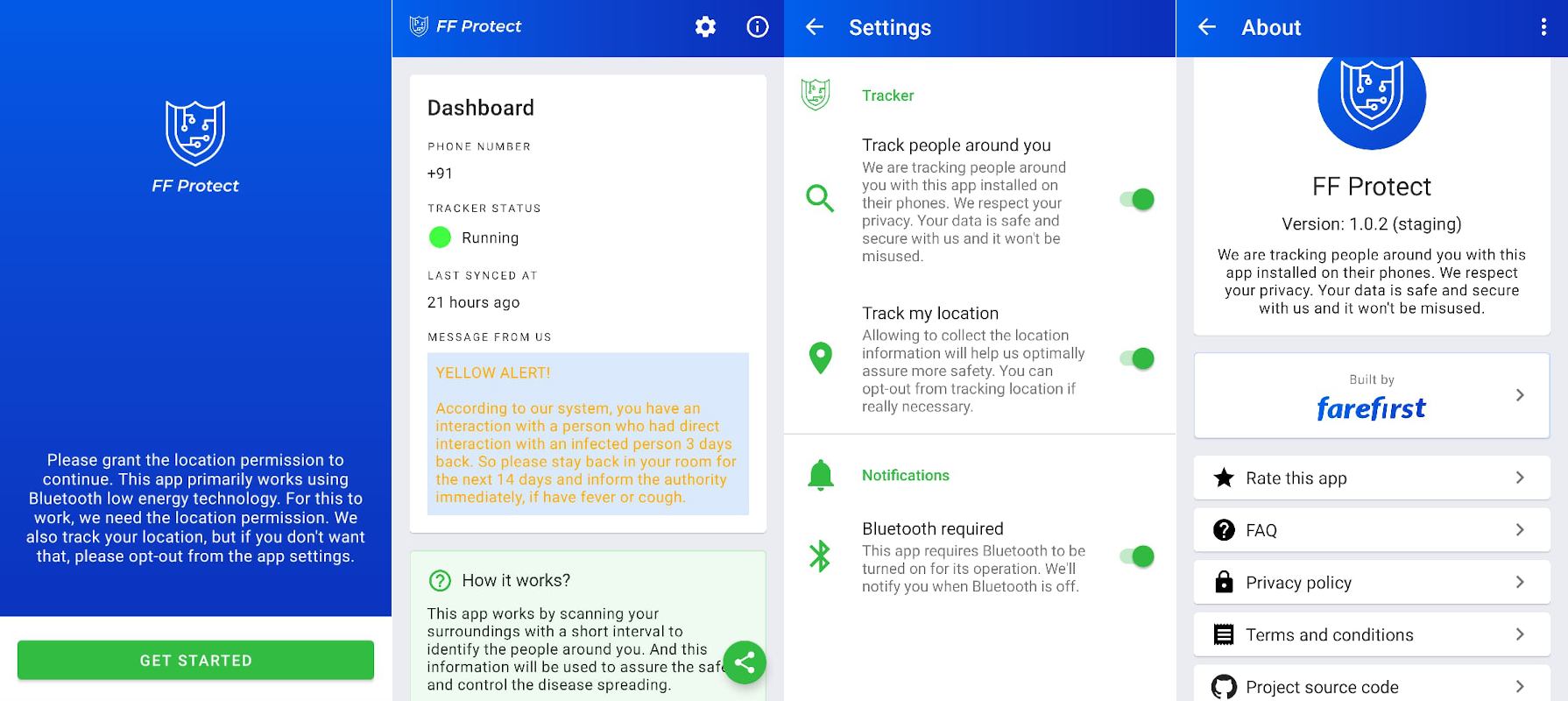 User Journey
User installs FF Protect app
Signs up with phone number
The app will automatically get activated and push encrypted data automatically.
Government authorities journey
Enable user tracking in our dashboard whenever there is a suspected epidemic/pandemic scenario.

This can be further tweaked to specific geographical areas only OR nationwide.
Advanced filtering and conditional tracking options available, for example, people entering or exiting a particular geographical area. (this feature is under development)
The data will get streamed and saved securely on the gov/private server.

The health workers inform confirmed cases or a set of people to be tracked. The following info is to be entered in the dashboard.

Phone number/s of index patient or suspected people.
If phone number unavailable, then, Area of the of index patient or suspected people.(this feature is under development)
Data analyser/Data scientist journey
Basic data analyzing and mapping will be provided by our system itself with predefined data processing algorithms.
The anonymized data will be processed based on the health workers' input and presented to the data scientist/s to analyze and predict the spread.
The analyst can prepare reports and actionable insights by querying and processing the raw data.
Color coding
People identified with the virus are marked with Red color coding.
After analyzing the proximity and duration of the contact, the data scientists report is generated, which will color-code individuals with various colors of different meaning. For example Yellow for direct contact, Blue for secondary contact, and Green for safe.
This information along with guidance will reflect in the individuals' smartphone, also the officials will receive this data for effective containment.
Together we can.
We are FareFirst and this our first step towards addressing a challenge in these difficult times. We strongly believe that we as a community can fight back and conquer COVID-19. We need to come together as a unit and break the chain.